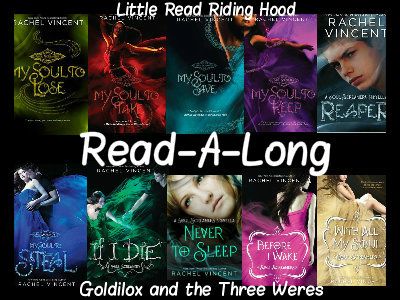 ***The Discussion at the Bottom of this post will contain spoilers***
Title: My Soul to Steal
Author: Rachel Vincent
Publisher: Harlequin
Publication Date: January 4th 2011
Page Count: 343
Where I got: Amazon

Where you can get it: Amazon
Barnes & Noble
Format I read it in: ebook
Description/Blurb:
Trying to work things out with Nash—her maybe boyfriend—is hard enough for Kaylee Cavanaugh. She can't just pretend nothing happened. But "complicated" doesn't even begin to describe their relationship when his ex-girlfriend transfers to their school, determined to take Nash back.

See, Sabine isn't just an ordinary girl. She's a mara, the living personification of a nightmare. She can read people's fears—and craft them into nightmares while her victims sleep. Feeding from human fear is how she survives.

And Sabine isn't above scaring Kaylee and the entire school to death to get whatever—and whoever—she wants.
My Thoughts:
I am going to start this review with a story of my own …
Back when I was in high school I was not popular but not picked on either. It was a pleasant experience overall. BUT (you know there was a but) I had a nemesis. We will call her M. I doubt she reads this, but I don't want to call her out JUST in case. Anyway, M seemed to go out of her way to steal my boyfriend. Inviting him out, excluding me, showing up at his house, buying him gifts – all under the pretense that 'they had been friends for years' – uh huh, not falling for it. It stressed me out and pissed me off and I was glad when I graduated, went to college, said boyfriend and I broke up, and I moved on with my life. I hadn't thought about M in a really long time.
The reason I am telling you this story, is because this book threw me right back to the days where dealing with M was a daily occurrence. This whole book made me anxious and angry and upset. My chest felt tight and while I couldn't put the book down I was dreading picking it up at the same time. Whoa. That's never happened to me before.
I would call that a win in my opinion. A book that takes you back to a time in life and makes you re-live all those same feelings is well written. Stressful as hell to read – but well written.
As I have come to expect from Vincent the whole cast of characters were fleshed out and true to form. There are some character shifts which I am looking forward to seeing fleshed out in the next book or two.
What did you think? Join the discussion here!
What was your first impression of Sabine? How about the first time you heard Nash call her 'Bina'?
Do you think Kaylee and Nash should give it another shot?
Why do you think Tod was acting weird toward Kaylee?
What about Alec – were you surprised?
Did you have major high school flashbacks too?
READ A LONG SCHEDULE:
And don't forget to join us June 15th for the next discussion!
February 15:
My Soul To Take (#1) and My Soul to Lose (novella # 0.5)
@ Goldilox and the Three Weres
March 15:
My Soul to Save (#2)
@ Little Read Riding Hood
April 15:
My Soul to Keep (#3) and Reaper (novella #3.5)
@ Goldilox and the Three Weres
May 15:
My Soul to Steal (#4)
@ Little Read Riding Hood
June 15:
If I Die (#5) and Never to Sleep (novella #5.5)
@ Goldilox and the Three Weres
July 15:
Before I Wake (#6)
@Little Read Riding Hood
August 15:
With All My Soul (#7)
@Goldilox and the Three Weres
And don't forget to see what Christen thought – check out her review!
Subscribe to Blog via Email