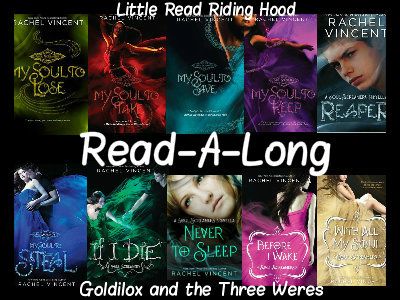 Soul Screamers
Read-A-Long
The Soul Screamers Read-A-Long is hosted by Christen at Goldilox and the The Three Weres, and of course, me, Laura, here at Little Read Riding Hood!
This month we read both My Soul to Keep and Reaper! Check out the discussion here, but read on for my reviews! Get caught up on the discussion here.
Kaylee has one addiction: her very hot, very popular boyfriend, Nash. A banshee like Kaylee, Nash understands her like no one else. Nothing can come between them.Until something does.Demon breath. No, not the toothpaste-challenged kind. The Netherworld kind. The kind that really can kill you. Somehow the super-addictive substance has made its way to the human world. But how? Kaylee and Nash have to cut off the source and protect their friends—one of whom is already hooked.And so is someone else…
Shit hits the fan. Serious issues arise, and many YA books, especially the fantasy books, won't touch it with a 10-foot pole.
Drug addiction is something that can be done in such a way that the story you are trying to tell is ruined by it. But Vincent handles it in such a way that it doesn't overshadow the story but becomes an integral part of it.
Kaylee and Nash are an adorable couple. They are not perfect but who is? But there has always been something a little … off about them to me. I just couldn't tell you what it was. I don't know if I want them to continue being a couple, especially after this book. Kaylee needs someone to be her equal, not to protect and baby her. But I don't know who that is.
This story is rough to get through, yet addicting. I found myself reading this story in one sitting. I couldn't put it down. It made my heart clench over and over.
Tod Hudson was a typical teenager. He liked girls, sports, food and tolerated his younger brother, Nash. In fact, he had his whole life in front of him–and due to his bean sidhe heritage, it was going to be a very long life indeed. And then the car accident occurred.

Suddenly Tod's future wasn't so sure, and he had to make a choice. Life… Death… or something Between….

An ebook exclusive Soul Screamers series novella.
I really can't say much about this story without giving things away. I really enjoyed this peek into how Tod became a Reaper and am now firmly Team Tod. He is my hero and lover and I want nothing more than for him to be happy. He just gets screwed over and over. It is definitely worth reading, and can be read at any time during the Soul Screamers series, but I think I got more out of it having been a few books in.
And make sure you join the discussion here today!