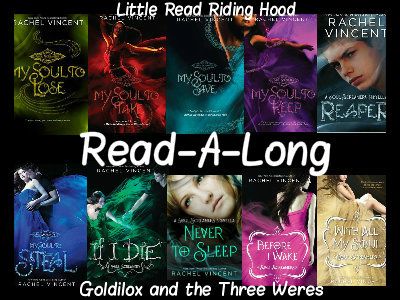 Soul Screamers
Read-A-Long
The Soul Screamers Read-A-Long is hosted by Christen at Goldilox and the The Three Weres, and of course, me, Laura, here at Little Read Riding Hood!
This month we read If I Die and the novella Never to Sleep
Title: If I Die
Author: Rachel Vincent
Publisher: Harlequin
Publication Date: September 27, 2011
Page Count: 342
Where I got: Amazon

Where you can get it: Amazon
Barnes & Noble
Format I read it in: ebook
Overall Rating (out of 5): 4
Description/Blurb:
The entire school's talking about the gorgeous new math teacher, Mr. Beck. Everyone except Kaylee Cavanaugh. After all, Kaylee's no ordinary high-school junior. She's a banshee—she screams when someone dies.

But the next scream might be for Kaylee.

Yeah—it's a shock to her, too. So to distract herself, Kaylee's going to save every girl in school. Because that hot new teacher is really an incubus who feeds on the desire of unsuspecting students. The only girls immune to his lure are Kaylee and Sabine, her boyfriend's needy ex-girlfriend. Now the unlikely allies have to get rid of Mr. Beck…before he discovers they aren't quite human, either.

But Kaylee's borrowed lifeline is nearing its end. And those who care about her will do anything to save her life.

Anything.
My Thoughts:
Well now – that was rough. I mean the whole series so far has been good and engaging and exciting but that was – wow.
Vincent throws us back into Kaylee's world, her and Nash are working things out, Sabine is still around making life difficult, Emma is FINALLY in the know about most everything, and Tod is still dreamy Tod. Until he has to deliver some devastating news – Kaylee's time is up. She is on the list.
Hole. Ee. Crap. What would you do if you knew when you were going to die, and that day was only a week away? Kaylee decides she needs to fix one more thing – and to do that she has to continue going to school. I personally wouldn't go to school but that's just me.
And of course if knowing you are going to die isn't bad enough, everything else starts unraveling as well. Things with Nash aren't perfect, Kaylee is lying to Emma and turning to Sabine for help and advice, and Tod is … well Tod is dreamy.
This whole story kept me on the edge of my seat, on my toes, and I had no clue where it was going. Just when I thought "OK, this is what's going to happen," BAM – I was wrong. If you haven't started this series yet WHAT ARE YOU WAITING FOR?! Even though the read-a-long for Before I Wake isn't until June, I may not be able to wait to read it. I must know what happens next, and sooner rather than later!
Title: Never to Sleep
Author: Rachel Vincent
Publisher: Harlequin
Publication Date: July 1, 2012
Page Count: 56
Where I got: Amazon – but the book doesn't seem to be available at the moment … :-/
Format I read it in: ebook
Overall Rating (out of 5): 4
Description/Blurb:
Don't Close Your Eyes.

Sophie Cavanaugh is not going to let her freak of a cousin's strange psychiatric condition ruin high school for them both. Not after all the work she's put into cultivating the right look, and friends, and reputation. But then, Sophie sees something so frightening she lets out a blood-curdling scream–and finds herself stuck in a bizarre parallel world where nothing is safe and deadly creatures lurk just out of sight, waiting for her to close her eyes and sleep…forever.

Could this world be real? Or does insanity run in the family…?
My Thoughts:
Getting inside Sophie's head made me a little more sympathetic toward her. As hateful as she is, she really has had it rough, and who among us wasn't selfish in out early teens? I for one couldn't see past the end of my nose, so I can relate.
This short gives some hints that maybe there is more to her than meets the eye. She is a very strong, brave, and possibly not all human, girl. I am actually looking forward to seeing where she goes from here and her growth. And Luca? What. The. Heck. I have a feeling he is going to play a bigger role in the coming books.
And now that you know my thoughts, go see Christen's review and join the discussion!