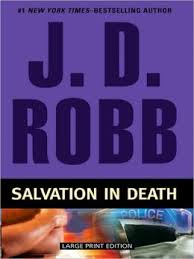 Salvation in Death by J.D. Robb
Series: In Death #27
Published by Penguin on June 2009
Genres: Sci Fi, Urban
Pages: 355
Source: Amazon
Buy on Amazon, Buy on Bookshop
Goodreads

Seconds after partaking of wine during a Catholic funeral mass, Father Miguel Flores is dead on the altar.  Detective Lieutenant Eve Dallas confirms that the consecrated wine contained enough potassium cyanide to kill a rhino.  And though the East Harlem neighborhood is a long way from the stone mansion she shares with her billionaire husband, Roarke, it's the holiness flying around St. Cristobal's that makes her uneasy.

The autopsy reveals faint scars of knife wounds, a removed tattoo-and evidence of plastic surgery suggesting "Father Flores" may not have been the man his parishioners thought.  Now, as Eve pieces together clues that suggest identity theft, gang connections, and a deeply personal act of revenge, she hopes to track down whoever committed this unholy act.  Until a second murder – in front of an even larger crowd of worshippers – knocks the whole investigation sideways…
First let me tell you that I mainline J.D. Robb books like some people eat chocolate.  So with that said, I have read a lot of them, of course not in order which would be too easy.  This is one of my favorite books.  Most of her books follow the same path which makes them predictable but still good.  This one does not follow this path, less sex, more murder, and less reminiscing about the past.  Which is one of the reasons I really liked this book.
As this is the 27th book in the In Death book series, the relationships are strong and have been thoroughly developed.  Everyone knows what happened in the past and with this book mentioning less of Eve's past it gives more time to the actual police investigation and theory crafting behind it.
This book is set in the not so distant future, however the New York that we all know is completely different, with air buses and licensed companions (LC) this is a how J.D. Robb envisions New York after a major war called the Urbans that essentially destroyed the majority of major cities and forced them to rebuild.
Eve, the main character in this book is stronger and more in touch with who she is and what she wants than in other books.  I like this as she is supposed to be a strong willed, individualistic, creature of habit.  Eve keeps more to herself in this installment than in any other which leads to arguments and misunderstandings.  She is still coming to terms with being married to a former criminal who now owns most of the lucrative businesses on and off world.  Let me tell you, the way that J.D. Robb wrote Roarke, he is a sight to behold, and I would hold him in a heart beat.
Another element that this book has that others do not is Peabody's arguing with Eve.  Peabody was written as a strong cop that is subservient to her supervisor.  In this one however, Peabody strikes out against Eve for what she feels is the wrong method.  This is really out of character for Peabody, and so far this is the first time I have seen it.
Overall I give this book 4 stars because of how different it is from the others as well as keeping with the theme most readers will be accustomed to.  All of the In Death books have a strong female lead that does not take anything for granted, even when she has the ruler of the worlds at her side.
Subscribe to Blog via Email