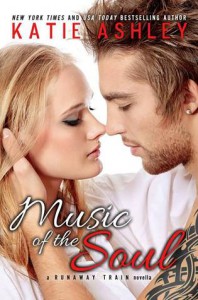 Music of the Soul by Katie Ashley
Also by this author: Music of the Heart, Beat of the Heart,
Series: Runaway Train 2.5
on December 29, 2013
Pages: 201
Buy on Amazon
Goodreads

In Music of the Heart, an unexpected twist of fate caused Abby Renard to fall into womanizer Jake Slater's bed. What started out as a small spark between the unlikely pair, grew into a deep and intense love. After a year-long engagement, the two have finally been able to set a wedding date. It's off to Mexico for a destination ceremony on a private beach. After a heated week long honeymoon in a tropical paradise, the two return to the real world of touring and making music together. 

As the newlyweds settle into married life, another twist of fate challenges their love. For once, Abby isn't able to be the rock of strength that Jake needs. Can the two of them hold on to the strong foundation of love they have built, or will it crumble under the pressure?
There is finally a window of opportunity for Abby and Jake to have the wedding they both so desperately want. Due to their popularity and the tour, there isn't a lot of time for the honeymoon or the celebration. The two decide to marry on a secluded island in Mexico. Allowing them to spend some much needed time between the two of them.
After the wedding of her dreams, Abby wants nothing more than to have the life she always dreamed of. Jake is not exactly on the same page. His childhood has tainted his view on starting a family. A decision that causes friction between he and Abby.
As the two head back to their lives on tour, they find that their priorities aren't the same. Married life isn't quite as easy as they thought. Doubt is always creeping into the picture. As they lead life from a tour bus, they soon discover that their relationship will take an unexpected turn.
After Abby's future dreams are shattered, Jake finds that he can't give her what she needs. Will it destroy any future they have together? Can they overcome the odds and their insecurities? After all, life doesn't always go as planned. Sometimes you have to improvise.
Katie Ashley has written a novella that explores what happens when the 'happily ever after' doesn't work out as planned. The glance into Abby and Jake's life as a married couple will leave you experiencing a range of emotion. The bond of friendship and family appears throughout the story. Leaving you wanting just one more glimpse into the lives of Runaway Train.