I received this book for free from Net Galley in exchange for an honest review. This does not affect my opinion of the book or the content of my review.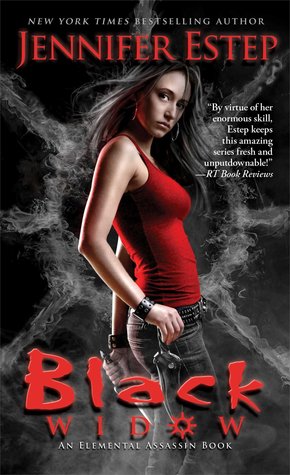 Black Widow by Jennifer Estep
Series: Elemental Assassin #12
Published by Pocket Books on 2014-11-25
Genres: Adult, Contemporary, Fantasy, Fiction, Romance, Urban
Pages: 400
Format: eARC
Source: Net Galley
Buy on Amazon, Buy on Bookshop
Goodreads

Lethal, sexy, and always ready to protect her friends, Gin Blanco (a.k.a. the Spider) takes on the mysterious M.M. Monroe in book twelve of the New York Times and USA TODAY bestselling Elemental Assassin urban fantasy series.

There's nothing worse than a cruel, cunning enemy with time to kill—and my murder to plan. With wicked Fire elemental Mab Monroe long gone, you'd think I could finally catch a break. But someone's always trying to take me down, either as Gin Blanco or my assassin alter-ago. Now along comes the Spider's new arch-nemesis, the mysteriously named M. M. Monroe, who is gleefully working overtime to trap me in a sticky web of deceit.

The thing is, I'm not the only target. I can see through the tangled threads enough to know that every bit of bad luck my friends have been having lately is no accident—and that each unfortunate "coincidence" is just one more arrow drawing ever closer to hitting the real bull's-eye. Though new to Ashland, this M. M. Monroe is no stranger to irony, trying to get me, an assassin, framed for murder. Yet, as my enemy's master plan is slowly revealed, I have a sinking feeling that it will take more than my powerful Ice and Stone magic to stop my whole life from going up in flames.
***WARNING*** While this review will not contain spoilers for Black Widow – it WILL contain spoilers for the previous books. I mean come on, it is book 12 in the series. I can't help it!
While I usually "read" these books in audio format, I jumped on the opportunity to read this one on Kindle early. And boy am I glad I did – it is my favorite in the series to date! Not that the audio books aren't great too, but I think for me the narrator doesn't match the picture I have in my head of some of the characters, which does affect my enjoyment some … anyway, on to the particulars of Black Widow!
We start with Gin getting used to really owning who she is as The Spider. Not that she was ever really ashamed of her assassin alter ego or anything, but in the end of the previous book there was a very large, very public, stand off with the big bad, and I am hoping this trend continues! I really really love bad-ass-no-apologies Gin.
While Gin is no stranger to hardship, and almost losing … repeatedly … things in Black Widow really test her patience, her resolve, and her faith in her friends and family. Things are about as bad for Blanco and gang as they have ever been, and it was great to see how they dealt with the challenges thrown their way. Something else that really made my day was how Gin is finally able to rely on her inner circle to help her out. Not trying to do everything on her own really makes her more bad ass all around.
As is usual for the Elemental Assassin Series, there are some very repetitive lines. In the past they have always been Gin counting seconds – "10 … 20 … 30 … 45 … " and explaining her 5-point arsenal – "1 blade in each sleeve, 1 at the small of her back, and one in either boot" but Black Widow added a new one – "lady business." Yes, Gin mentions doing her "lady business" at least 3 different times that I can recall. It's funny, sometimes I wonder about that in a book. You know, when someone is on a 12 hour stakeout or something, I think "When/how/where do they use the restroom?" And at one point in the story I think it adds to the sense of relief. But the other times? Yeah, it could have been skipped. It made me a bit uncomfortable.
Honestly, I thought the last book would be the last one I read. I thought it ended in a good place, and bringing the Monroe family feud back was going to be boring, but I am glad I gave Black Widow a try. Like I said earlier, it is my favorite in the series, and I do look forward to the adventures Gin and gang get into next!
If you are interested in hearing a clip of the audio book, check it out below!
Subscribe to Blog via Email