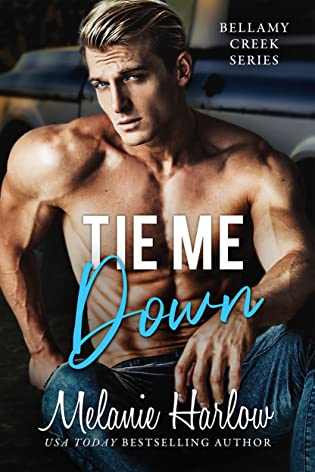 Tie Me Down: A Small Town Friends to Lovers Romance (Bellamy Creek Series Book 4) by Melanie Harlow
Series: Bellamy Creek #4
Also in this series:
Format: eARC
Source: Author
Buy on Amazon
Goodreads

Just friends.That's all Beckett Weaver and I have ever been.
Sure, he's a hot cowboy who left Wall Street behind to take over his family's ranch. Yes, I've had a secret crush on him since we were seventeen. And who wouldn't appreciate those strong hands, that massive chest, and the way he fills out a pair of Levis?
He makes a girl sweat just looking at him . . . and I look. A lot.
But I'm a single mom trying to move on with my life, and he's running that ranch single-handedly while taking care of his elderly father. We don't even live in the same state. I only returned to my hometown of Bellamy Creek to sell my late mother's house, and he just invited me and my son to stay with him because he's got a big heart.
That's not the only big thing he's got--which I discover the night I finally sneak across the hall to his bedroom and shed my inhibitions right alongside my pajamas. And once we give into each other, we can't stop.
The hayloft. The bed of his truck. The dock by the pond.
Nothing has ever felt so right, but his past has taught him not to believe in happily ever after, and every perfect night I spend in his arms brings us closer to goodbye.
Like any cowboy, he's good with a rope and knows exactly how to tie me up.
But what if I want him to tie me down?
MY REVIEW
Sometimes life throws the biggest curveballs. For Beckett– his future was planned out in great detail. What Beckett didn't expect was to find himself giving up life on Wall Street to head back to his hometown. Running the family ranch was not in the plans, yet Beckett didn't hesitate to pack up his life and head back to the family farm in Bellamy Creek.
Maddie Blake has experienced her own curveball in life. With a marriage that crumbled as fast as it began, Maddie finds herself coming back to her hometown to tie up a few loose ends. With the task of fixing up her former home, Maddie finds herself back in the quaint town of Bellamy Creek. With no where to go during the renovations, Maddie finds herself accepting an offer from her old neighbors. Maddie's special secret all those years ago was her crush on Beckett and seeing Elliott brings all those crazy feelings to the forefront.
Beckett Weaver longed to be more than friends with Maggie when they were growing up. That longing carried on through the years, and Beckett couldn't help feeling the spark when he laid eyes on Maddie once more. With the tendrils of a new divorce under her belt, Maggie also struggles with the possibility of acting on those secret feelings. Both are desperate to take a chance to uncover what they lost out on all those years ago. What cost will arise from making the transition from friends to something more??
Tie Me Down is the latest release by Melanie Harlow in the Bellamy Creek series. This book wraps up a series that quickly found its way into my heart. I will admit, I couldn't wait to discover what was in store for Beckett, and I think he had quite the journey to finding love. The storyline surrounding Beckett and Maddie was a real as you could expect. No 'fluff' surrounding this duo!! A beautifully written story to wrap up the series!!
FREE in Kindle Unlimited
Subscribe to Blog via Email