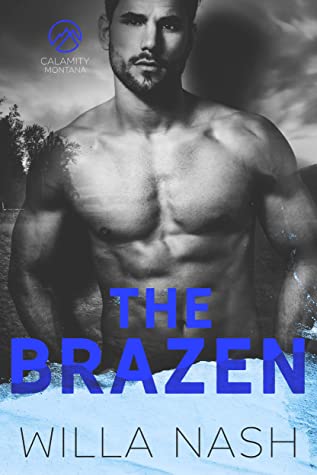 The Brazen (Calamity Montana, #3) by Willa Nash, Devney Perry
Published by Devney Perry LLC Pages: 322
Source: Author
Buy on Amazon
Goodreads

From USA Today Bestselling Author Devney Perry, writing as Willa Nash, comes a stranded together, small town romance.
Kerrigan Hale's personal life is about as exciting as a bucket of tar. With hard work and hustle as her steadfast companions, who needs romance or adventure? Her empire in Calamity, Montana, isn't going to build itself.
For years, her mentor—and investor—helped make her dreams come true. Until his unexpected death put her fate in his grandson's hands. A brazen billionaire, he seems intent on ruining Kerrigan's life.
But if Pierce Sullivan thinks she'll go down without a fight, he's sorely mistaken. Pushed to the extreme, she drives to his ritzy mountain lodge to force the arrogant You Can Call Me Mr. Sullivan to hear her out.
No sooner does she arrive than a snowstorm traps her with Pierce. Stranded together for days, she's in for the battle of her life. Pierce is nearly irresistible by candlelight. Without his suits and fancy cars, he's almost human.
Except only a fool would let down her guard. And Kerrigan can't risk her future. Not when she doesn't know if he's out to pilfer her dreams . . . or to steal her heart.
MY REVIEW
Kerrigan Hale knows a thing or two about investing in her community. As a young entrepreneur, Kerrigan is determined to explore investments that will not only be rewarding but will invest in the future of Calamity, Montana. The real estate market is where Kerrigan concentrates her efforts, hoping her investments will lead to more opportunities. With the backing and support of local investor, the future is looking more promising with each passing day.
Then an unexpected turn of events has Kerrigan scrambling to repay the loans that are now due on her business ventures. As the grandson of her benefactor decides to cash in, Kerrigan knows that she will have to make some hard decisions. At the center of all her turmoil is Pierce Sullivan. This bold and unexpected billionaire is nothing like his grandfather, a fact that Kerrigan can't help but notice.
As the two begin a tug of war over business negotiations, they find that there is an attraction there that is hard to ignore. The spark that ignites between Kerrigan and Pierce is magnified when a snowstorm leaves the two stranded in a mountain lodge together. When forced to stay in the same space during the storm, Kerrigan and Pierce realize things are more complicated than a cut and dry business deal.
The Brazen is the latest release in the Calamity Montana series by Willa Nash. This story focuses on Kerrigan Hale who is a local in the fictional small town. From the moment we were introduced to Kerrigan in the previous books, I couldn't wait to uncover what was in store for this character. This story doesn't have a lot of angst, but it does have an insta-romance that definitely captures your attention. Readers will find Kerrigan's story addictive from beginning to end. Willa Nash (Devney Perry) never disappoints!! The Brazen is a great summer read that deserves a top spot on your reading list!!
Subscribe to Blog via Email