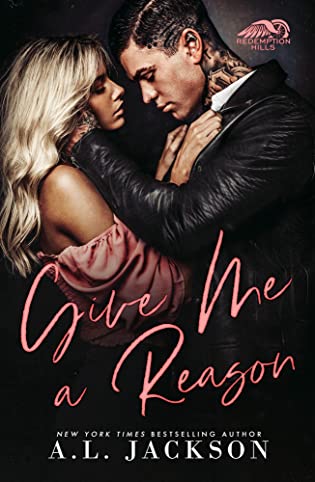 Give Me a Reason (Redemption Hills, #1) by A.L. Jackson
Published by A.L. Jackson Books Inc. on August 30, 2021
Pages: 418
Buy on Amazon
Goodreads


From NYT and USA Today bestselling author A.L. Jackson comes a single-dad, enemies-to-lovers stand-alone romance about a jaded club owner and his son's teacher…

Eden Murphy came into my club looking to make some extra cash.A girl like her didn't belong in a place like this. She'd get ripped to shreds.Most likely by me.There's nothing but sweetness dripping from her sexy little body, and I'm the monster who's salivating to get a taste.
Trent Lawson is the last man I should want.Dark.Dangerous.So wickedly gorgeous he makes my knees weak. He's also an arrogant jerk who happens to be my new boss.
When I discover his adorable son is also in my kindergarten class, I know I have to keep my distance.
But neither of us can ignore the attraction that flames.One glance, and our hearts race. One touch, and we're aching for what we can't have. One night, and we're falling fast.
Dragging her into my sordid world is wrong.It doesn't matter. Eden Murphy is mine.
Chance encounters often lead to unexpected relationships. For Eden Murphy – the quest for an extra income was at the forefront of her mind. Determined to find a way to make some quick cash, Eden finds herself at a local club waiting for an interview. What Eden didn't realize is how that interview would lead her down a path that would ultimately change her life.
Trent is the mysterious club owner that is desperately trying to change his past. Raising a son all own his own, Trent has to overcome the remnants that still linger from his days in a MC. What Trent didn't expect was to be pulled to the innocence of the latest applicant in his club. Eden is the ray of sunshine that brightens a gloomy day. When Trent realizes that Eden is also his son's teacher, the duo finds their paths colliding in more ways than one.
The duo discovers that the spark between them is becoming harder to ignore. With Gage a constant anchor in the chaos, Trent and Eden find their attraction burning brighter with each passing day. Danger is lurking around the horizon. What will Trent do to keep the woman that haunts his dreams safe from harm?
Give Me a Reason is the latest release from A.L. Jackson. It is a story of redemption that is sprinkled with a little sin. This novel is layered with several plot twists that will tug at your heart strings when revealed. Trent and Eden are not your conventional couple, but they draw you in with their unique romance. Simply put…..Trent and Eden are the couple that you can't help but root for. The Redemption Hills series is off to an excellent start, and I can't wait to see what is in store with the next book!
---
GIVEAWAY
The Ultimate Reader Pack
Kindle Fire, Signed Bleeding Stars Set, and Mug!
Read on Amazon or with Kindle Unlimited
Listen to the Audio Narrated by Connor Crais and Desiree Ketchum
Subscribe to Blog via Email