I received this book for free from Blog Tour in exchange for an honest review. This does not affect my opinion of the book or the content of my review.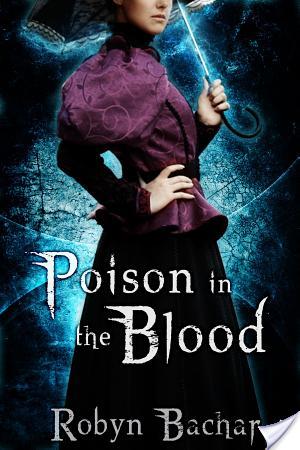 Poison in the Blood by Robyn Bachar
Published by Samhain Publishing on 2013-06-18
Genres: Fiction, Paranormal, Romance
Pages: 222
Source: Blog Tour
Buy on Amazon, Buy on Bookshop
Goodreads

She is honey to his throat...but one sweet taste could part them forever...Bad Witch: The Emily Chronicles, Book 2Banished from home while her husband adjusts to life as an immortal, blood-drinking chronicler, Emily Black is homesick, heartsick and struggling under the constant sensory barrage of a city drenched in ancient magic. When an old friend asks for her aid in solving a string of murders, she welcomes the distraction, despite the danger. Justine Dubois is grateful for a seer's help, and more understanding than anyone of Emily's plight. As a guardian, Justine commands respect; as a woman, her magic is considered inferior. Together, they are determined to prove their worth to London's magicians, starting with solving these murders—with maybe a bit of matchmaking on the side. Long before he met his soul mate, Michael Black made a commitment to join the Order of St. Jerome. He will live forever, forced to watch the woman he loves age and die. As Emily hunts the murderer, Michael struggles to protect her. But if he loses control of his hunger, the greatest threat to her safety could be Michael himself. Warning: Contains tortured soul mates, scheming faeries, vampire debauchery, deadly parasols, illicit blood-drinker relations, and adorable plot moppets.
Hello all, I am here to tell you about a really good book as well as interview the author of said really good book.  Without further ado here is my review of Poison in the Blood.
So you may have noticed that I do not give 5 stars out that much, well this book deserved a five star rating from me.  This was due to a combination of things, the authors writing, the historical research, and the story.  For me it was a very insightful look at magicians and it really gave a new look on the enter supernatural world.
The three things that I really liked are: 1) the book was set in a historical time period in London, so the author actually had to do some research about clothing and personalities and what is considered proper.  That was really interesting and I think that she did a good job.  2) the main character is a strong woman who has to deal with being a seer which is highly unique apparently as well as being a mom, a wife, a sister, and a detective in training.  The main issue with the main character is that her husband has decided that while she is part of the living world, he has taken an oath to live forever as a chronicler, a fancy name for a blood drinker combined with a librarian and archivist.  3) I really like the twist and the characters.  I specifically like the idea of soulmates and it not just being a phrase that people use but something tangible that could be seen by a seer.
One last thing, this book has a glossary, yes I am in nerd heaven but it was really nice to see what some of the terms mean that I read throughout the book.  Some were obvious and some where not so it was nice.  It also gave a whole new meaning to Vampire which I really like.   I think this is really good, and while I thought the title meant one thing, and it meant something completely different, it was a really nice change.
Toodles,
Andi
Now please welcome Robyn Bachar the author of Poison in the Blood.
Tell us a little about yourself!      Hi, I'm Robyn. I write paranormal and sci-fi romance, and I currently have three series with Samhain Publishing. When I'm not writing I enjoy slaying monsters in role-playing games.
At what point did you decide/realize you wanted to be a writer?                              According to my mother I wrote my first book when I was four years old, so I think it's safe to say I've always wanted to be an author. 🙂 I started writing my first novel in 8th grade.
If you weren't a writer, what would you be doing?          Hmm. I don't know. What do non-writers do? For the past few months I've been hosting authors on my blog every Thursday, and it's been fascinating to hear how they're inspired by the things around them. Authors really do have a different outlook on life. We can find inspiration anywhere. 😉
Do you have a day job? If so, what do you do?   At the moment I am writing full time.
If you became independently wealth, what would you do with your time? Would you still write?              Heck yeah! I'd write more! And I'd start a writing commune for my author buddies (especially my BFF Diana) so we could write all the time and come up with awesome stories together.
What are your favorite:

Authors: (in no particular order) Linnea Sinclair, Nora Roberts, Seanan McGuire, Ann Aguirre, Jim C. Hines, Keith Melton, Sheryl Nantus, Chandra Ryan, Cathy Pegau, Tiffany Reisz
Book genres to read: Anything romance, but definitely paranormal, fantasy, and sci-fi romance
Band/song: Right now I'm addicted to Florence + The Machine
Desserts: Brownies with vanilla buttercream frosting

What do you do in your spare time?        I write. When I'm not writing, I'm outlining, editing, proofreading, or promoting.
Tell me about your best (or worst!) vacation.      Disney World! I hope to go back when the RWA National conference is there again.
This or that:

Vampires or werewolves? Vampires. My Bad Witch and Bad Witch: The Emily Chronicles series both feature vampires who cause all kinds of trouble.
TV or Movies?   TV. Preferably streaming on Netflix.
Beach or Mountains?     Neither. I'm allergic to nature. I'd rather have room service. 😉
Cat or Dog? Yes please! I love both, though I am allergic to my cat.
Beer or Wine?   Beer. Preferably Guinness, Goose Island 312, or a Sam Addams Winter Lager.

What is something we may not know about you?             I often have pink hair. Pink is my signature color.
Subscribe to Blog via Email