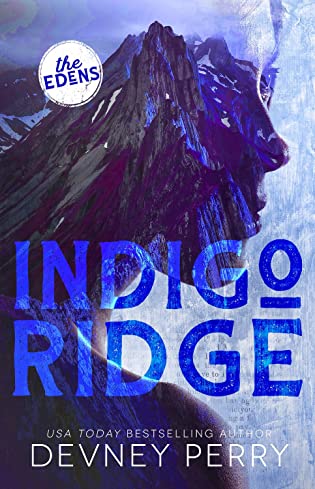 Indigo Ridge (The Edens, #1) by Devney Perry
Published by Devney Perry LLC on October 26, 2021
Pages: 324
Goodreads

From USA Today Bestselling Author Devney Perry comes a small town, enemies-to-lovers contemporary romance.
Winslow Covington believes in life, liberty and the letter of the law. As Quincy, Montana's new chief of police, she's determined to prove herself to the community and show them she didn't earn her position because her grandfather is the mayor.
According to her pops, all she has to do is earn favor with the Edens. But winning over the town's founding family might have been easier if not for her one-night stand with their oldest son. In her defense, it was her first night in town and she didn't realize that the rugged and charming man who wooed her into bed was Quincy royalty.
Sleeping with Griffin Eden was a huge mistake, one she's trying to forget. He's insufferable, arrogant and keeps reminding everyone that she's an outsider. Winslow does her best to avoid Griffin, but when a woman is found dead on Eden property, the two of them have no choice but to cross paths.
As clues to the murderer lead to one of Quincy's own, Griffin realizes Winslow is more than he gave her credit for. Beautiful and intelligent, she proves hard to resist. For him. And the killer.
MY REVIEW
Picking up the pieces of your life and diving headfirst into a new beginning is the reality that Winslow Covington is experiencing. As the new Chief of Police in Quincy, Montana, Win knows that nothing about this move is going to be easy. The pressure of living up to the expectations of being the mayor's granddaughter is a reality that is weighing on the new chief. Determined to blow off a little steam, Winslow heads to the local bar for a little relaxation.
What should have been a 'one and done' night of fun turned into quite a bit more. It seems that tourist that Winslow thought she was hooking up with was actually the son of one of the founding families in Quincy. Griffin was broody and arrogant, but Winslow still couldn't stop thinking about their night together.
Now a murder on the Eden farm has pulled Griffin and Winslow into the same orbit once more. As Winslow works all angles from an investigation perspective, the reality of who might be involved is causing tension between Griffin and Winnie. Determined to get to the bottom of the case, Winslow knows that the answers might lead to the destruction of any future with Griffin. As the case deepens, the secret that have been lurking in Quincy are about to rattle the entire town once they come to light.
Indigo Ridge is the latest release from Devney Perry to hit shelves, and it is one book you don't want to miss!! This unpredictable romance is layered with suspense that is sure to keep you glued to your reader. I will admit that I devoured this new release in one sitting. YES….it was that good! Delve into the unavoidable romance that blossoms between the woman of the law and the broody, rugged rancher. The chemistry between Winslow and Griffin will leave you desperate for more. Simply put….Indigo Ridge consumed me from beginning to end. Discover for yourself why Devney Perry's book are ALWAYS at the top of my reading list!
Subscribe to Blog via Email