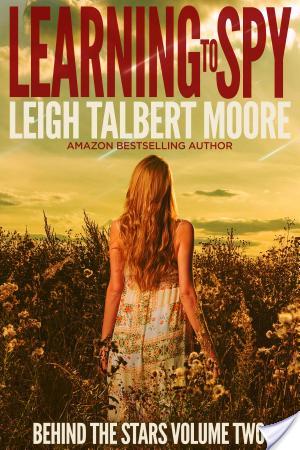 Learning to Spy by Leigh T Moore
Published by Leigh T. Moore on November 9th 2014
Genres: Action & Adventure, Fiction, General, Love & Romance, New Adult, Paranormal, Romance, Survival Stories, Young Adult
Pages: 29
Format: eARC
Buy on Amazon
Goodreads

Book #2 in a new mini-series by Amazon Bestselling Author Leigh Talbert Moore.Alone in her mission, Prentiss has to figure out a new approach if she plans to escape the prison camp alive. She does not expect to find an ally among her captors.Strategies change and secrets are revealed in "Learning to Spy," Book #2 in the Behind the Stars series.Red Dawn meets LOST in this New Adult action-adventure romance. Contains mild language and themes appropriate for readers aged 13 and older.Episode Release Schedule: (all available for pre-order)Nov. 9 - CaptiveNov. 9 - Learning to SpyNov. 23 - Harvest MoonDec. 7 - JacksonDec. 21 - Into the WoodsDec. 28 - If I FlyDec. 31 - BEHIND THE STARS Complete SetKeywords: action, adventure, small town, paranormal, female protagonist, suspense, survival, love, romantic
Learning to live as a captive is the life Prentiss now leads. Her days are consumed with following the routine of the camp and studying a way to escape. As Prentiss performs the tasks assigned to the prisoners, she is rewarded for her skills with livestock. Determined to find a way out of this camp, Prentiss begins to study the habits of the camp leaders.
Keeping her friends from faltering is high on Prentiss' priorities. Without them, she is unsure if an escape is possible. However, the others believe that they have been taken prisoner by 'aliens'. Could that even be possible?? Jackson is still no where to be seen. Determination to escape fuels Prentiss to discover any way to escape that she can.
In Learning To Spy, we discover more about the life Prentiss lead in small town Mississippi. Faith in her relationship with Jackson has pulled her through tough times. That faith is fueling her determination to escape whatever prison the people of the town have fallen upon. This is the second installment in the Beyond the Stars series and I am hooked. The possibilities that Leigh Talbert Moore has written into the pages is endless. What will Prentiss do? Is Jackson even alive? Readers will definitely be anticipating what is in store for this heroine!
Subscribe to Blog via Email