Welcome to day 2 of my week long Birthday Bash! (If you missed the post from day 1, check it out here) Today we have a guest post from the lovely Terri Bruce, who's first novel, Hereafter, just went on sale August 1st! AND (yes, there is an and!) she is giving away a copy of Hereafter, and the winner can select the format! E-book or paperback! And it is international! How generous! Without further ado, lets welcome Miss Terri Bruce!
When Laura offered me a guest spot on her blog, I immediately knew I wanted to talk about red dresses—after all, Hereafter doesn't just feature a red dress on the cover—Irene's sexy red dress plays a prominent role in the book to the point where it's almost a character in and of itself. The first thing the acquisitions editor said to me when I accepted Eternal Press's offer to publish Hereafter was, "What do you think of a cover featuring Irene in *that* dress." I knew in that moment that she totally got the book and that we had the same vision for the cover. And what better place to talk about red dresses than at the Little Read Riding Hood blog?
So let's talk about some great book covers featuring red dresses. Of course, there's the current crop of eye candy covers that are oh-so-gorgeous (in order of my preference for the dresses pictured):
BTW, totally random fun fact—the Sweet Evil dress is almost the exact design of the prom gown I had picked out (though in a wine red), but I ended up not going to my prom and so I never got to wear it.
Now, I could have simply stopped with those twelve book covers, but what's the fun in that? Everyone's already talked about those and I like to be difficult different. So, instead of the usual eye candy, here's ten other book covers that feature red dresses, each of which I like for a different reason:
Not only do I love this dress—which is totally something I might wear if I ever went to the type of place where one might wear this type of dress—I absolutely love the title of this book. It's so evocative; you can just imagine the type of woman one would describe as a "red dress walking"—the way she looks, the way she walks, the color of her hair, the look in her eyes. Oh yeah, watch out boys…
 My favorite part of this "red dress" cover isn't the dress—though I really do love this dress and would totally wear this. No, it's the tag line for the book: "Her beauty was God's gift; her ways were from the devil!" I.LOVE.IT!
What I love about this cover is the juxtaposition of the slinky red dress with the red sneakers. I've always wanted to be one of those girls that can get away with wearing combat boots with an evening gown—a girl who is comfortable being both strong and feminine, who's a little bit classical, a little bit rock and roll, who's totally her own person.
Now, not only is the title of this book fabulous, but I also LOVE this dress. It's very close to the style of my wedding dress—if I had been brave enough to wear an off-the-shoulder gown, that is (actually, if you look closely, the other sleeve is ON her shoulder, so I think this side is just falling down, rather than purposely designed to be off-the-shoulder). I love Empire-Waisted dresses and this gown is elegance personified with its simple design, flowing train, and refined and just-the-right-shade of red. *This* is the dress I would wear to the Oscars…if I was ever invited.
If the Elizabeth Boyle dress is the one I'd wear to the Oscars, this dress is the one I'd wear everywhere else. I'm a modern, twenty-first century gal, I love being able to wear trousers, and a corset does sound like hell on earth, and yet….and yet. I do so love historical fiction set in the time of corsets and dresses that require a cage or hoop. My fondest wish is to do the ballroom polka like Yul Brynner and Deborah Kerr in "The King and I," a giant hoop skirt whirling around my legs as I twirl madly around the ballroom. Never mind the fact that Kerr apparently had bruises all up and down her legs afterwards from the hoop banging into as she danced. This dress would be worth suffering for.
In 2010 my husband and I had the good fortune to be able to take a short trip to London—our first overseas—during which we managed to cross over to Paris for one day. My one day in Paris was, perhaps, the best day of my life to date. It was magical and amazing and perfect, and this book cover makes me think of that day. I felt beautiful and worldly and desperately in love as I strolled the banks of the Seine and gazed on the unicorn tapestries at the Cluny Museum and explored twisting cobblestone streets full of hidden delights. Le sigh.
I just love this one because it's such a different take on the "red dress" theme—no high-contrast, black/gray/white background, no gorgeous/sexy woman. In fact, this is the exact opposite of all those other sexy dresses—this is a prim and proper, little girl's dress. I love the reminder that a "red dress" unto itself doesn't mean anything or have to be sexy.
Now tell me this one isn't awesome. Come on! What's not to love? It's a red dress alright, and a pretty cool one at that, but between the boots and the shotgun, this woman manages to turn it upside down and inside out. I love it!
I love this cover for two reasons: a) I totally wish I could wear this dress, but I do not have the figure for it, and b) this reminds me of how I felt when my sister recently showed me a picture of four vintage dresses in a consignment shop window. They were all gorgeous, but the one on the far right caught my eye. I mentioned to my sister how much I loved the dress, and she said that she, too, had loved it, but it wasn't her size. My sister is much thinner than me, so I perked up. I said, "Oh, this does look too big for you. Maybe it's my size?" My sister shook her head. "It's a size FOUR." FOUR?! The thing looked like a twelve to me. Suddenly I wanted to lose about a hundred pounds as I realized that if a size four was that BIG, then my size (well above a four) was HUGE. Maybe it was a size four women's, because I really don't think it was a regular four. Either way, it made me realize how little it can take to make us feel bad about ourselves and our bodies
This cover says it all.
Let's all say thank you to the lovely Terri Bruce for sharing that with us! I know I have a few new red dress related books on my TBR pile! Now, on to the giveaway! It is super easy, and will run until 8/20. There are several ways you can enter. Just fill out the Rafflecopter form below, and you are all set!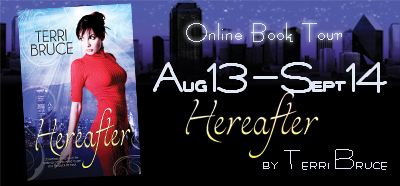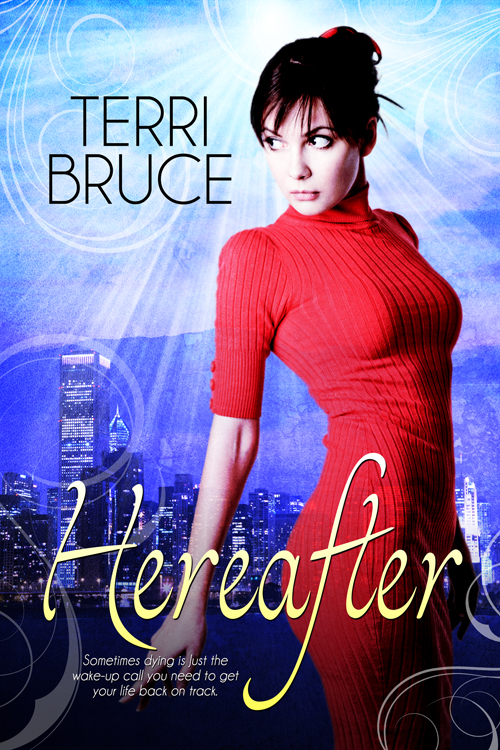 Eternal Press • Paperback • August 1, 2012

Why let a little thing like dying get in the way of a good time?

Thirty-six-year-old Irene Dunphy didn't plan on dying any time soon, but that's exactly what happens when she makes the mistake of getting behind the wheel after a night bar-hopping with friends. She finds herself stranded on Earth as a ghost, where the food has no taste, the alcohol doesn't get you drunk, and the sex…well, let's just say "don't bother." To make matters worse, the only person who can see her—courtesy of a book he found in his school library—is a fourteen-year-old boy genius obsessed with the afterlife.

This sounds suspiciously like hell to Irene, so she prepares to strike out for the Great Beyond. The only problem is that, while this side has exorcism, ghost repellents, and soul devouring demons, the other side has three-headed hell hounds, final judgment, and eternal torment. If only there was a third option…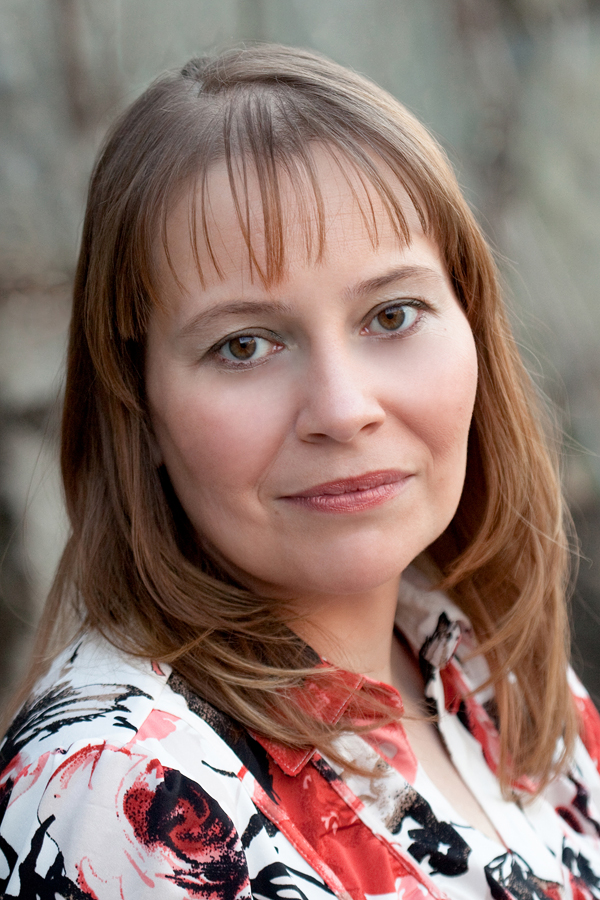 Terri Bruce has been making up adventure stories for as long as she can remember and won her first writing award when she was twelve. Like Anne Shirley, she prefers to make people cry rather than laugh, but is happy if she can do either. She produces fantasy and adventure stories from a haunted house in New England where she lives with her husband and three cats.
Subscribe to Blog via Email